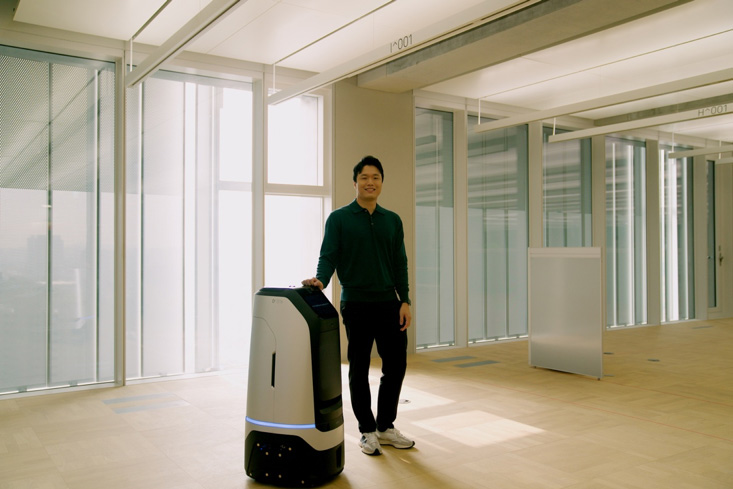 Since the beginning of your career until now, you have been working with robots.
Yes, I've been making mobile robots on wheels for 10 years now. To be honest, developing robots has never really been my dream - it was more of a coincidence that I started making robots. But I think I was actually able to do this for a lot longer with a fondness for my job because I didn't start off with big expectations.
What sets NAVER LABS apart from its competitors in the field of robotics?
NAVER LABS is not a big company, but I think we are probably the best among companies that can handle each and every step of making a robot. We have not just the hardware and software but also the cloud infrastructure for making robots, which means we are capable of being a total solution provider for robots. Companies based on hardware manufacturing have larger production volumes, which means they have to do everything at a slower pace. But we can develop robots in a more agile way by making a small number of samples quickly, checking its performance and making the necessary changes. I think what sets us apart is that we can make everything from hardware to software in the way we want, which is uncommon in the industry.
Tell us about the work you are doing in the Software & Machine Learning team now.
Our team is currently working on the software or autonomous driving technology for the mobile robot AROUND, as well as software platform development for the robot "AMBIDEX" which has 2 arms but no legs. We also develop robotics software integrated with cloud.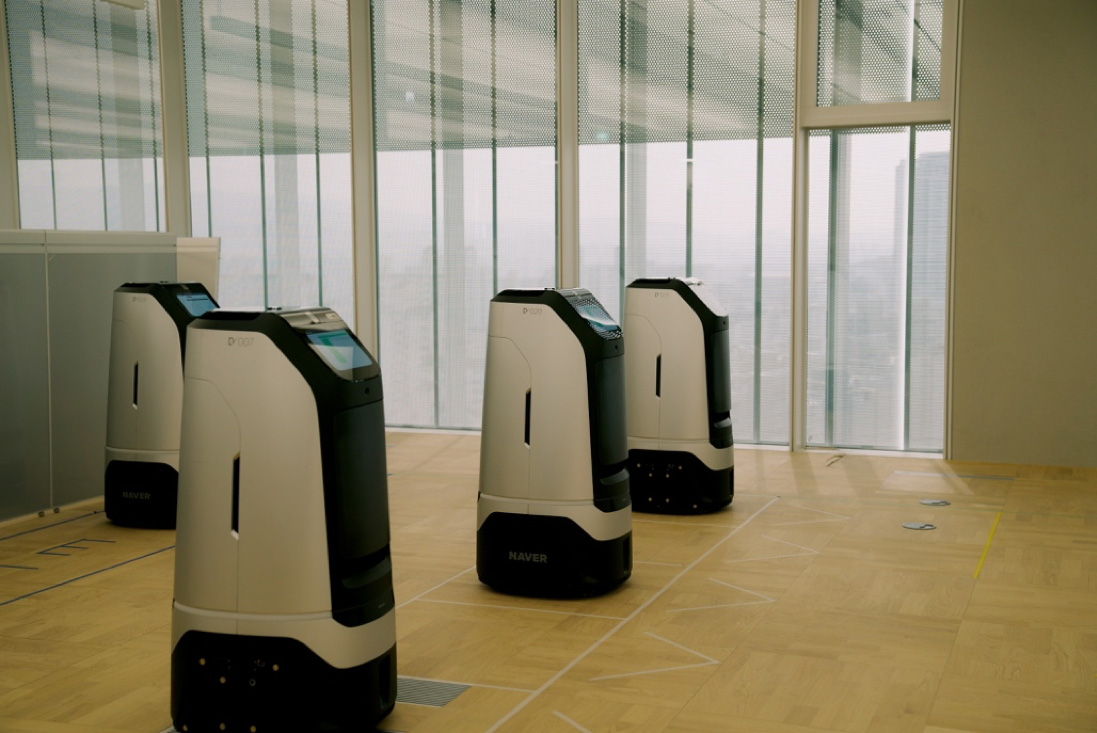 AROUND will be servicing our employees in NAVER's new office building. For instance, when employees receive a package they have to go pick it up. Our first service will be using robots to have it delivered to their seats at the time of their choice. We are also preparing a service to enable employees to have their lunch delivered to their seats, and a coffee delivery service so that employees won't have to go to cafes to pick up coffee.
What is your biggest area of concern for the project you're working on at the moment?
There are several issues we must address since robots are working in the same building as us. For starters, multiple robots have to pass through small spaces or passages. A special elevator for robots was built in NAVER's new office building, but that's not enough for 100 robots to move around freely at the same time. As such, we are putting much thought into how we are going to find the balance between robotic services and the efficiency in robots' movements, and how robots can provide higher-quality services without getting in the way of humans. These issues must be handled not just with technical solutions, but also with policies or operations, which makes matters more complex. We must think about different plans and scenarios for robots to become part of our everyday life, largely based on a thorough understanding of the society we live in.
What was the most meaningful experience in the past 10 years of your career?
Probably when I first became in charge of the project "AROUND." My predecessor had to leave the project on a very short notice and left me in charge, so I guess I was destined to lead this project. I had a blast working on this project because it was related to mobile robots, which is my area of expertise. The project was all I could think about 24/7. AROUND feels a lot more special to me because I worked on the project from the very start of its planning to the end, whereas the robot vacuum cleaners or airport robots I worked on in my former employers had been halfway planned when I first joined.
Do you have a particular habit or routine that comes with the job?
I study a lot on how insects behave. I read many biology papers on navigation or driving mechanisms, and try to get ideas from insect behaviors such as how they find their way back home or try to find food. Then I try to look for ways to apply these ideas to robots. For instance, AROUND uses cameras with a wide viewing angle to locate itself, and this idea actually came from ants or bees whose eyes have a wide viewing angle. This is just an example of how we get inspiration from insects and apply them to our robot. There are lots of other strong traits of insects, which we will apply to our robots one by one.
Are there any other projects you would like to work on?
I do want to do more research on AI that can enhance robots' intelligence. There is a fundamental question about whether robots today are capable of providing services that humans will be fully satisfied with. Robots today have almost no flexibility, and being flexible, I believe, requires an extremely high level of intelligence. For instance, let's say a delivery robot has been programmed to wait for 5 minutes if the receiver isn't at the location where they were supposed to meet. Sometimes you might have to wait for just a second longer than 5 minutes, or sometimes waiting for 5 minutes might not be meaningful at all and you would be better off heading back right away. Providing a satisfactory service would be possible when robots are able to make decisions flexibly depending on each circumstance, not on a fixed rule that has been set out. Technologies applied to robots today are far from being able to flexibly respond to situations like this.
"Developing robots actually requires a deeper understanding of human nature."
There are talks in the media about how robots will soon outperform humans in areas where they were thought to be irreplaceable.
Many people think that with machine learning, we will soon be building something like the Skynet that will take over the entire humanity. But I think that cannot be further away from the truth. For that to become a reality, more research on machine learning and new paradigms will have to be done before putting them into actual application. Developing robots actually requires a deeper understanding of human nature. Responding flexibly to a situation, which I mentioned earlier, can only be done based on an understanding of humans. Robots have to understand what humans would like in a given situation, or how humans would act in a society with a specific cultural background. Laying this kind of groundwork is important, which is why robots capable of providing better services would only be developed based on a deeper understanding of humans. I've never really been that good at engineering or mathematics. I know it sounds ironic, but I was always more interested in liberal arts. I think working on robots suits me quite well in this sense.
What does it mean to be good at your job?
I think those who have the motivation within themselves to keep going are the ones who are good at their jobs. Those people who do not work because of other people. Having the motivation within yourself means that you are truly in love with your work. You would strive to do better, which in turn would lead to a better outcome. Also, I think it's important to finish what you've started when you're working within an organization. It is easy to start doing something, but finishing it until the very end is what sets professionals apart from others.
What motivates you to get better?
Topics that have already been researched in academia are not yet being used for real-world applications, and robots are still not being widely used. We also have a long way to go commercially. As someone who has been working on robots for quite a while now, how unsatisfied I am with the current robots is my motivation to keep going. I think I have a great desire to make useful robots and prove them to the world.
What would you like to do if you had some spare time on your hands?
The first thing that comes to my mind is to take a rest and do nothing, but I think I'll get tired of it after a month or two. I think I'll probably do some research and dig deeper into questions like "what should be done to allow for flexibility in intelligence?" Answers to questions like these are what I'm personally curious about, and what I want to apply to my work later on.