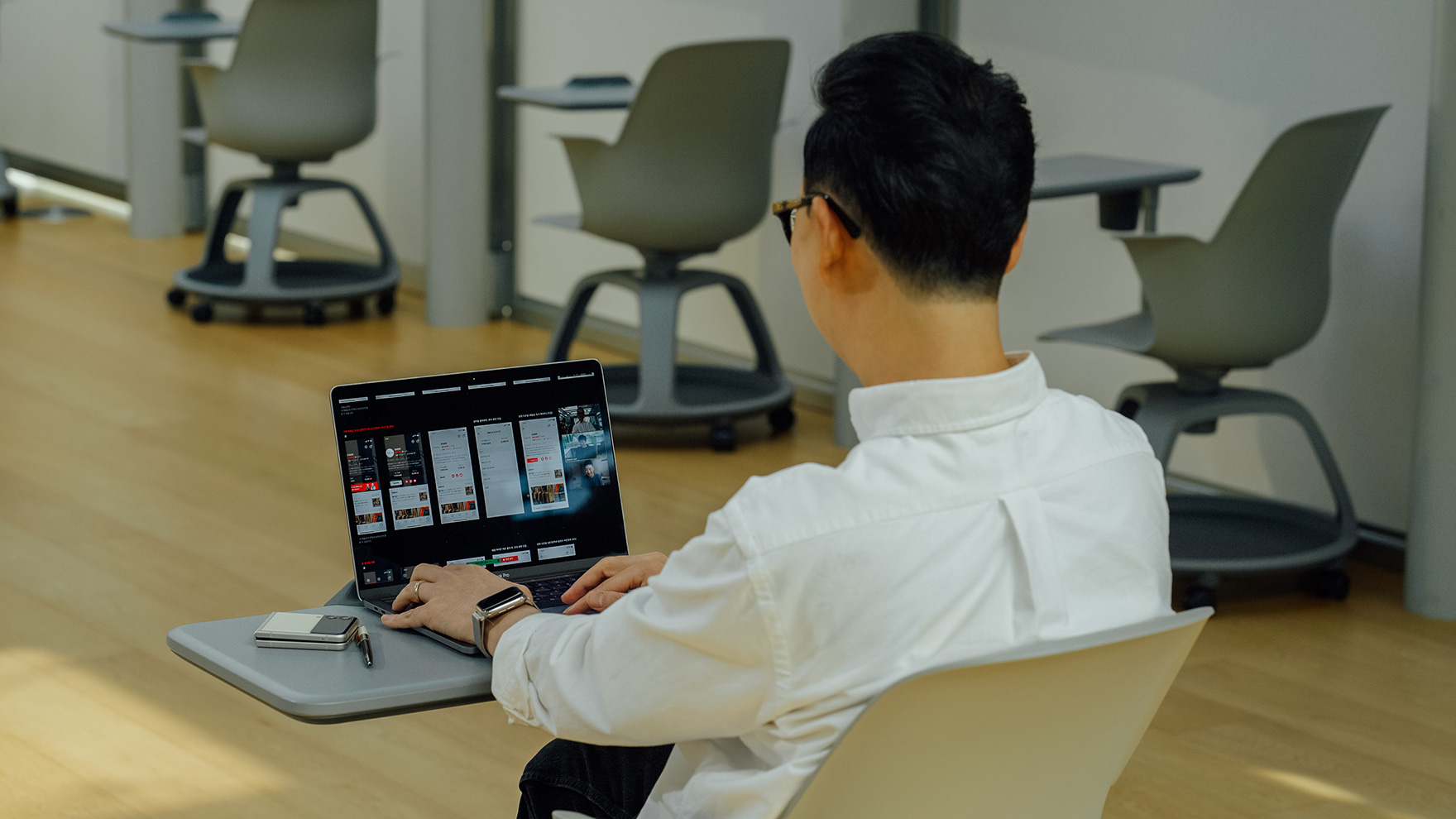 Tell us about your project, "Vintage City".
We first started Vintage City with one goal in mind: let's jump into the booming resale market. Vintage City curates vintage goods and shops in Tokyo and offers them to our users. Vintage shops are recommended to users who might have interest in them. In short, Vintage City is "Japan's first Vintage Fashion EC community" where anyone can buy and sell their vintage goods.
Why vintage?
I was watching Youtube the other day, and an influencer posted a video about her vintage watch that she bought while traveling in New York. People started writing comments on her video, asking where she bought the watch. Come to think of it, people I know always looked for nice vintage shops whenever they visited Tokyo, and I have had the same experience when I was traveling in Berlin. This thought has led me and my team to gather information on vintage shops around the world. We thought, since there are so many vintage shops worldwide, we might be able to do something by gathering all the related information. Japan is the world's third largest fashion market, but there wasn't a single C2C platform for clothing and accessories. It was quite surprising that there was no single platform providing information on vintage goods, given that Japanese vintage fashion has a long history. I remember that we were really excited when we first came up with this idea. We are not only Japan's first, but we are in fact, the world's first C2C platform for vintage goods. Let's be honest. There is nothing new in the platform business.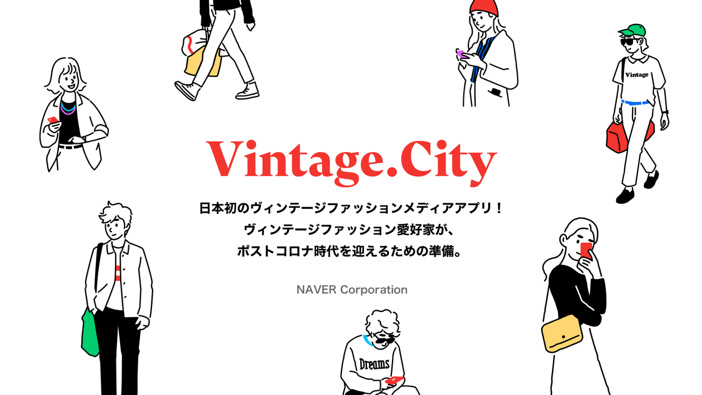 I heard that everything is done offline in Japan. Was this never a blocker for you?
We actually received a lot of negative feedback from LINE. When we first came up with Vintage City, we asked them what they thought because we wanted them to approve of the idea. They really loved it, but showed concerns that it may be hard to penetrate the market because Japanese are so used to doing everything offline. It was even more so for vintage shops because owners run their shop with craftsmanship. But then came COVID-19, pulling down sales by 90%. Shop owners started to feel the need to sell their products online. And we were there to help. We connected sellers and buyers by offering individual pages on our platform to each of the sellers, and providing updates on discounts and events to buyers. I think this is where the sellers realized that our platform helped boost their sales because they started to introduce our platform to other vintage owners.
"It was quite surprising that there was no single platform providing information on vintage goods, given that Japanese vintage fashion has a long history. In fact, Vintage City is the world's first C2C platform for vintage goods."
Now that it has been a year since its launch, can you tell us about Vintage City's achievements?
Vintage City is one of NAVER's businesses, but it is run in the form of a startup in Japan without receiving any support from LINE. Although NAVER is not a familiar brand in Japan, Vintage City hit 820,000 downloads as of April 2022. We initially opened 41 vintage shops in Tokyo alone, but now we have 394 shops running in all 47 prefectures in Japan, including Osaka and Kyoto. We heard that it is difficult to open stores across the country. For example, even conglomerates like UNIQLO and Starbucks took decades to establish branches in all 47 prefectures nationwide. Although they are all online stores, I think running them nationwide has significant meaning for all of us.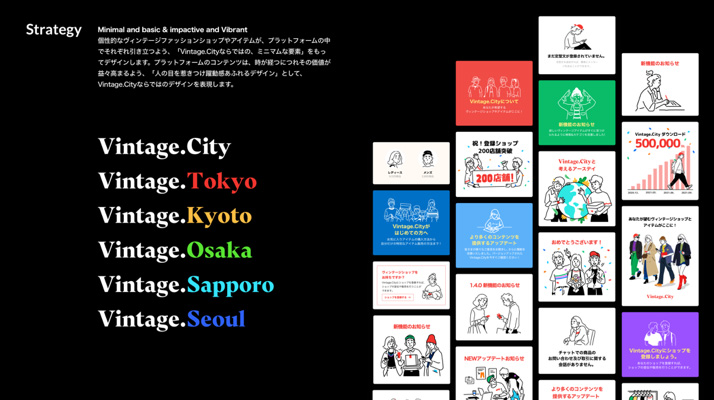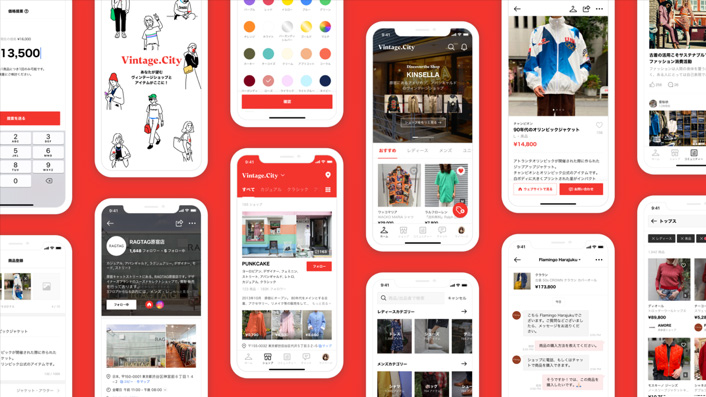 When we first launched our platform in the Japanese market, we were desperate to promote our service. We also had to convince the Japanese users that our service was reliable. So we submitted our work to the GOOD DESIGN AWARD 2021, hosted by Japan, and luckily we received an award. Award winners are given a G mark, and Japanese users think of these products as appealing, user-friendly and high in quality.
What was different this time?
It wasn't easy to prepare, launch and operate a project, and add payment functions to the service because I have been working as a designer for the past 14 years. Many expressed concerns over our project launch when we first organized the team. So we reached out for support to relevant teams for commerce, contract and legal advice whenever we felt anxious. Actually, we never stopped asking for advice. For me, it is important to launch projects and achieve amazing results, but it is more important to build trust within our team.
What was the biggest challenge you had to face?
It was right after we launched the project. We were a small team and not a lot of people knew about our work, so I think the company wanted to align our project with its business direction. After the launch, we were suddenly informed that we might have to shut down our service. So we put our heads together with developers and service planners, who were co-leading our project, to look at our project from different angles. We talked about why we wanted to keep this project going, whether it truly brings benefits to our users, and whether it provides a meaningful user experience as the first of its kind. Our conclusion was that it's worth it. So we sent an email to the decision makers to give us one last chance to pitch our project. There was no reply. But then, after a while, we received a short message saying "Let's have a meeting." I don't think I will ever forget that moment. We did the best we could to prepare for the meeting, and tried to convince the decision makers by highlighting that this platform is the first of its kind, which is rare in today's world. I don't know why, maybe we seemed too desperate, but we succeeded in convincing them and our project was able to survive until today.
"I do believe that you can love your job after all even if you first started off with a sense of duty."
Apart from Vintage City, I've heard that you have led the launch of many new projects from scratch. Are you a person who prefers change?
Some might mistaken me as one who prefers change, but in most cases, it's because I feel responsible for it. It isn't easy for a person like me to leave a project behind, which I've worked day and night, and start a whole new project. But whenever I had a chance, I didn't hesitate because I was able to grow when I did my utmost to get the job done, whether it was significant or not, ever since I was a junior staff. I really admire Kim Jun-koo, the CEO at NAVER WEBTOON, and his work because he achieved success by doing what he loves: comics. I think he is someone you can look up to if you work at a company because most of us can't always do what we love. In fact, there are more cases where we have to do things that we don't like at all. It was the same with Vintage City. I did have an interest in vintage goods, but I wasn't a huge fan of it. Nevertheless, I do believe that you can love your job after all even if you first started off with a sense of duty. It was very interesting for me to see the number of users grow from 100 at the first month of service launch, and then into a thousand, ten thousand, a hundred thousand, and to two hundred thousand. I hope our project could serve as an example of showing how work that wasn't fun at all can turn into something that you love and eventually into a successful project if you stay committed.
What is your daily work routine?
I don't know if you can call this a routine, but whenever I start a project, I first focus on the things that add more value. I try to find what it may bring to other people, and what my team and I might gain through this experience. I believe this is what gets me motivated during tough times.
Do you have a particular habit or routine that comes with the job?
I don't know whether I can call this a habit, but I am a person of perseverance. I decided to become a designer 6 months before I took the college entrance exam. I worked hard because I started late. For example, when other people spent an hour on their drawing at the art academy, I arrived earlier than my peers so that I could practice more on my drawing. My first project as a designer was to design with elegance. I used a mix of black and gold and my boss said to me as soon as he saw my design, "Myong-won, go and take a look around the Galleria Luxury Hall." So I did during the weekend. I went there to see what kind of design and colors are considered elegant. I saw something that was colored in navy with a hint of mint, and I found it very elegant. So I used these colors in my design, and people really loved it. Ever since then, whenever I come across impressive color schemes, I've saved them for my own design. Saving a color a week resulted in a wide range of color palettes for me to use as a designer after many weeks. This habit helped me to become a designer who is good with colors from someone who had really bad taste in choosing colors. This shows that even though one does not have what it takes to be a designer, with sheer perseverance, anyone can become a great designer.
What does the word 'creative' mean to you?
It has become extremely difficult to create something novel. This may have been possible in the past, but I think that being creative today means to recreate and revisit existing ideas and create something out of it. Vintage City is a prime example of creativity. There have been vintage shops all along but we have found a niche market and came up with a platform to connect the users' offline and online experience. I think Vintage City is a project that fits right into this category since COVID-19 made it difficult for people to fully experience offline vintage shops.
Are there any other projects you would like to work on?
Not as much as I did before because NAVER is different in that it offers many different services to its users. I have always wanted to work in smaller organizations like startups with a more dynamic work environment because I've only had experience working in large corporations for the past 10 years. But I like working here at NAVER because thankfully, I am in charge of projects like the VC project. It might not be as dynamic as it is in startups, but projects like the VC project provides a glimpse of the startup life. And another thing I'm grateful for is that I can do whatever I want within NAVER's infrastructure, which made me become unafraid of failure and stay passionate about my job. Things might not go as I've planned, and there might be hiccups along the way, but if I keep on dreaming, everything will come to fruition because I will be prepared when the time comes. Even if I do fail, I think it is worth a try.